My first book has been published on Amazon Kindle and hit #1 on several of the charts!  It's very exciting.  The print version will be coming out in the next couple of weeks.
I'd just like to thank my co-authors Travis Evans, Craig Cassidy, and Jeff Biro.   Congratulations to you guys too for being a "Best Selling Author"!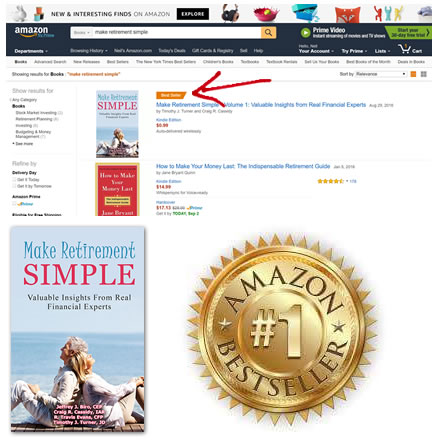 If you want to check out the KINDLE version here it is on Amazon.com:  http://amzn.to/2cffv2J
WOULD YOU LIKE THIS BOOK FOR FREE? Get our LABOR DAY SPECIAL and we will mail you a PRINTED COPY once it is ready later this month.  You will get ALL of the following if you get going this Labor Day weekend:
1). Full RetirementView software
2). The Latest 2016 Edition (and 2017 edition when it is ready in January)
3). you get 1 year of updates from date of purchase
4). you get our QuickStart Guide
5). you get unlimited support by e-mail and phone.
6). you get our iron-clad 100% 90-Day Unconditional Money Back Guarantee (new customers only).
7). you get our online training videos that teach you how to use the software.
8). BONUS: LIVE Q&A Call with Tim Turner – bring all your questions
9). BONUS: $25 TARGET GIFT CARD
10). BONUS: FREE 2016 CD IN THE MAIL
11). * BONUS *: Copy of Print Verion of Tim's Best Selling Book "Make Retirement Simple" (once it is ready in print)
If you'd like to get this,
click here to order!