Retirement Planning Software
Financial Planning Software
Web-Based Financial Calculators
Business Card Software
Business Development Services
Free Demonstrations and Downloads
FAQs and Documentation
Contact and Support
Don't take our word for it....
Listen to Real Users who have emailed us REAL COMMENTS:
"Your software is top notch."
- Gary Danca
"Everyone who tries it will want to buy and use it."
- Patricia Mull
"The most important software on my computer."
- Mark Umek
"This is a marvelous program, in fact it has changed how I do business."
- Bill Sheehy
"This is a great software program -- simple to use and easily understandable..."
- Arnold Kern
"..the most robust, user-friendly financial planning program I have ever used."
- David Hoffman, MD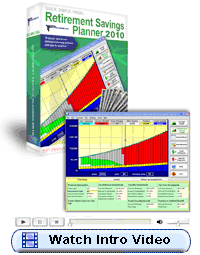 "This [Retirement Planner] is a good, simple tool at least worth checking out via a free trial."
Barron's Online Investor
WebCalcs® Software modules can add financial planning to your website. Advanced modules can be used by financial advisors and professionals. Contact us for a free demo.
Does your firm need a custom financial planning illustration? Perhaps an annuity rider that you need to do client illustrations for? Maybe it's something related to a product or service that is new for your firm?
Call us to discuss what you need. We specialize in creating Premium quality systems, fast turnaround, and reasonable pricing.