Personal retirement planning software for consumers
Easy to Use
Easy to Learn
Real Time Results
Powerful, interactive and easy to use financial and
retirement planning solutions you can count on!
Don't Run Out of Money!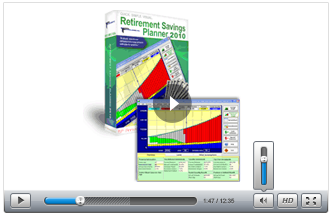 This Retirement Savings software takes into account income from Social Security, Pensions, Defined Benefits, other cash infusions, special expenses and unlimited Investments including tax-deferred, tax-free and taxable. This retirement planning program will help you create plans for those Watch the Video Demonstration of our Financial Planning Softwaresaving for retirement as well as those already retired. Quit wasting your time on free web calculators that do not account for taxes or all of the life events that will dramatically affect your retirement picture!

This software is:
Easy to Learn
Easy to Use
Quick
Not Complicated
Real-time
Colorful
Visual
Anyone can use it
"So easy anyone can use it."
In less than 15 minutes you can punch in basic data and have Retirement Savings Planner generating meaningful and accurate retirement savings projections. Even more important, the easy-to-read charts display in "red" any projected shortfall.
Don't take our word for it. Hear What Our Users Say:
"..the most robust, user-friendly financial planning program I have ever used."
- David Hoffman, MD
"I recommend this to all my friends."
- Douglas Cleveland
"This is one of the easiest to use programs I've ever used."
- Larry Konty
....Click Here for More and More Testimonials
Personal Edition
For individuals, employees, retirement plan participants who want to quickly and easily estimate their retirement savings and how much you need to meet your retirement income goal. If you are already retired it will help illustrate how long your money will last.
Price : $149
FREE DOWNLOAD
(TRY IT TODAY FOR FREE)