Hi, I hope you and your family had a great summer. Wishing you and yours a wonderful Fall! Here in Atlanta we still have some heat but it's starting to finally cool down at night. Hayrides, pumpkins and apple cider are here! North Georgia is simply a delight in the Fall with college football dominating the scene.
So it's an odd contrast to talk about traveling overseas for this article, but I needed to continue this thread while it's fresh on my mind. As I mentioned last month, my wife and I were blessed to visit Italy for our 24th anniversary trip over the summer. We were also able to take a short cruise to Croatia and Greece on the same trip.
What is the tie to "marketing" you might ask? Well, first of all I wanted to reiterate that 10 years ago we would never have been able to even afford this kind of trip. The ONE THING that has made the most difference in Torrid over the last 10 years is a focus on "marketing".
Over the last 10 years I have been studying marketing, learning from marketing gurus, reading books, attending marketing conferences, trying new marketing methods and generally taking the job of "marketing" seriously. Something I knew little about and didn't realize how important it was until I saw the "results" slowly producing fruit.
For financial advisors, you got into the business probably because you like people, or are good with finances. You are a technician and can operate your financial practice just fine. But without a consistent focus on "marketing", you just can't grow your practice fast enough.
More and better marketing is what has allowed my wife and I to take the trip this summer to Italy and Greece. It was the "key" to make that happen. Without the marketing, the growth in our customer base and revenue would not be occurring. This allowed us the freedom and the financial resources to take the trip.
Now onto the trip so you can live vicariously for the duration of this article… Our first cruise stop was Split, Croatia – a place I never thought we'd visit in a million years. This city was a delight. Imagine stone streets and historic buildings facing a clean harbor surrounded by flowering plants and glorious mountains. Roman ruins, walls and towers gave a unique character to an easily walkable "town". The food and wine were worth the visit.
Our first port in Greece was the scenic Santorini. We booked a bus tour to get a feel for the island. The views from everywhere were spectacular. Part of the tour we walked up to the top of a town to see houses and blue domed churches up close. Afterwards we took a taxi to a beach and enjoyed the seafood while relaxing by the ocean.
The next day we were in Mykonos. Wanting to avoid the crowds we shied away from the ship excursions and instead took a taxi to a nearby beach that the driver recommended. We set up at Atlantis hotel and beach with chairs and umbrellas. The water was crystal clear. The seafood once again delicious. Without all that "marketing stuff" we would never have been there.
After a day at sea we then visited Katakolon. I know we stopped here so people could visit the ruins of Olympia. We just weren't interested in it and instead took an excursion bus to a beach. Unfortunately the beach wasn't that great and was crawling with people selling stuff which made it hard to relax. Our intuition in Mykonos to take a taxi off the beaten path would have been best repeated here.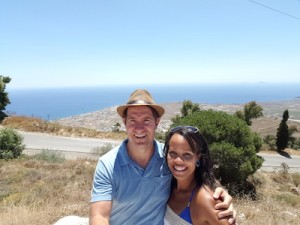 When we were getting married in 1991, Greece was our dream honeymoon. Due to the Gulf War breaking out we couldn't go, and instead had a wonderful trip to France. So it had been a long time dream to finally make it to Greece. We were so glad we were blessed with this chance. Santorini was certainly the jewel of this leg of our trip.
Do you have a place that you've dreamed of going? What plans have you put in place to get there? Spending time focused on your "marketing" to grow your practice should be at the top of your "to do" list…you will be well rewarded for your efforts.