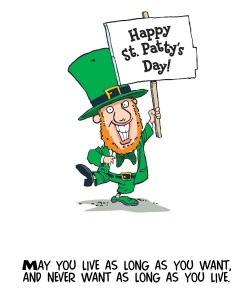 March is getting to be "St. Patrick's Day" MONTH as people celebrate the Irish green.  Where did St. Patrick's Day come from?
According to Wikipedia: Saint Patrick's Day was made an official Christian feast day in the early 17th century and is observed by the Catholic Church, the Anglican Communion (especially the Church of Ireland), the Eastern Orthodox Church, and the Lutheran Church. The day commemorates Saint Patrick and the arrival of Christianity in Ireland, and celebrates the heritage and culture of the Irish in general.  Celebrations generally involve public parades and festivals, cèilidhs, and the wearing of green attire or shamrocks.
I've always wondered how Leprechauns have been associated with St. Patrick's Day and tried to find it online.  I found a lot of sites talking about Leprechauns, but none that say why they are associated with St. Patrick's Day.   This is the info that I found courtesy of  http://www.holidayinsights.com.
Leprechauns, or little people, are Irish fairies about two feet tall. Leprechauns are dressed in green and are shoemakers. They can be found by following the sound of their hammering. They are believed to have hidden away a pot of gold. If you catch a Leprechaun, they have to lead you to their treasure. But, be wary, if you take their eye off of them they will get away.
Leprechauns are sly creatures, and will try to trick you into looking away so they can escape and not have to give you their treasure. They are also a bit of a loner, and rarely seen in groups. Seldom do you even see pairs of Leprechauns together.
Just curious, do your clients view you as a "Leprechaun" financial advisor?  That now that they've caught you that you are going to bring them a big pot 'o gold?  My guess is you have to "manage expectations" so that they understand you are not a miracle worker.
I've looked at a LOT of retirement pictures and some look great, and others… well the person has just not been diligent enough in their savings.  Their expectations of how to live off so little in retirement probably lead them to a "lottery" mentality.  That they will win big.  Or that they will catch a Leprechaun and get his gold.
I've also met a lot of financial advisors that aren't realistic about why they are not growing their practice.  They have very few leads and claim "I get referrals".  They spend virtually no money on "real" marketing – by which I mean systematic efforts that bring real potential clients into their office on a regular basis.  Or worse, they try something one time and conclude "it doesn't work".
"Real marketing" requires ongoing continuous effort to track, assess, hone, and improve so that over time the marketing is bringing a profitable ROI.  It's not a one-time expense.  It's an ongoing effort.  Ideally, a "system" that is put in place and constantly worked.
If your practice is growing and you want to accelerate that growth "faster", or if you want to put "something" in place that is foundational for generating leads, please contact my assistant Suzie at suzie@torrid-tech.com to set up a time to discuss your practice.  If you are broke and constantly chasing shiny new items procured by Leprechauns, please don't waste my time.  Serious inquiries only.
Meanwhile, I think I just saw a Leprechaun running over that yonder hill.  I'd better ignore it and get back to some real work!
Tim Turner