THANK YOU FOR REGISTERING FOR OUR WEBINAR…
(It was a ONE CLICK registration… so you should shortly get an email from GoToWebinar with details in your email box)
On this webinar, You will learn about our new Explosive Lead Gen System….
This past July 4th Tim recording some Fireworks out on Lake Blue Ridge in North Georgia…
Do you know what it's like to have some explosive power behind your practice?
Many advisors like you are using the RetirementView software to skyrocket what you do in one-on-one conversations with prospects and clients.
And that's great!
You are getting rid of the "red" on a daily and weekly basis…. and helping people in the process.
But what if you could take that rocket fuel and apply it to your "lead generation" efforts?
Did you know that I invented the idea of a web financial calculator back in 1994?
I designed the first retirement calculator, the first Social Security estimator, the first Risk Profile analyzer and many more.
Lately all I hear about from advisors like you is "I need more leads!  If I could just get in front of more people, then I know I could really make a bigger impact AND make more money!"
Well, we heard you loud and clear!
We have created a "lead generation" version of RetirementView that runs from your website.
Yep!
It looks nearly identical to the desktop version, but it's web based.
It does NOT let the prospect use every aspect of the software.
They can't create a couples plan or add cash infusions and special expenses.
Clicking on those things tells them to contact YOU!
Or to set up an appointment with you… typically using a Calendly.com type of system.
What does that let you do????
It let's you use the power of RetirementView with "mass marketing"…
Yep.  You can email it out to a list.  You could mail post cards about it.  You could let "groups" access it ….and it is advertising YOU and YOUR PRACTICE the entire time.
Maybe you have a radio show.  You can drive traffic to it from your radio program…
You can hang it off your existing website OR we could put it on it's own domain name for you if you like so you can do ultimate tracking on it.
So….
Make sure you attend the WEBINAR to learn all about this new system!
AGAIN SEE YOU ON THE WEBINAR – DETAILS SHOULD HAVE BEEN EMAILED TO YOU DIRECTLY FROM GOTOWEBINAR!
Thanks and Happy Planning!
Regards,
-Tim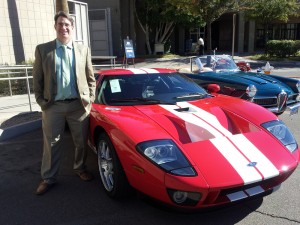 P.S.  No this is not my car… Ford GT350 I think at a car show that was at a conference in Phoenix a few years back.