What does cutting trees have to do with RetirementView?
Well, it's an analogy really. If you read my previous post (and April newsletter article), you would have seen the saga of cutting trees down in my yard. The cycle we've seen seems to represent the cycle of business – Torrid's to be specific. Maybe it sounds familiar to your business as well.
Problems: Limited Growth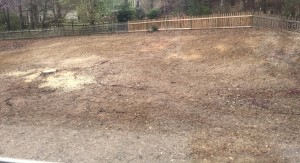 In case you missed it, the tree in my yard had been struck by lightening. While it had survived, it looked sort of deformed with a chunk blown out of it in the hit PLUS it had gotten so big that no grass could grow around and/or under it. It just really needed to go.
Actions: Cutting Trees
Cutting trees is an expensive endeavor! We asked all our friends if they had anyone they would recommend who was licensed, bonded and reasonably priced. Well, we found just the right guy and he brought out his crew to do the job. They had that thing down, chopped up and hauled away in no time at all. Now that the tree was down, it amplified how truly awful the yard looked.
Discomforts: Not So Pretty
Our yard was really more dirt than grass and with the tree gone, that was never more obvious. This giant ugly bald spot in the yard was horrifying. On top of that, it's been raining here all summer. The good – things are growing and it hasn't been so hot – the down side – the dogs come in muddy every time they have to go out. Since we're hoping to grow new grass, the rain was welcome and Resolve Carpet Cleaner has never been happier! Ha!
Due to all the rain, they were unable to get the stump grinder in here for a couple of weeks and once they ground it down, all the rain kept us from getting the shavings cleaned up as quickly as we would have liked.
Results: Getting Better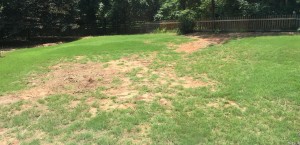 It's been almost 2 months now since the cutting of the tree. Things are looking much better and it's difficult to believe this is even the same yard! The grass is spreading rapidly across the bald spots now that the sun can reach the ground. We still need to do a little clean up and some more growth is needed but things are definitely on the upturn!
So what about Torrid?
We've done some cutting trees through growing and changing this year. Technology changes quickly these days – I'm sure you know. Some of the elements in our program, while they worked fine, weren't as aesthetically pleasing as we would like. There were some elements that needed to change PLUS we're experimenting with a web based version as well.
It's taken some pruning and "tree cutting" of the software and some of the backend programming and working with you to fix some small bugs and inconveniences . We appreciate your assistance and patience as we work through those! Our programmers have spent some LONG hours fine tuning countless details and figures as well as millions of lines of programming. BUT, in the end, we believe we've made strides to a better product. A product that, after some of the difficulties in the building process, you will notice to be better and make your user experience better – which makes a better experience for your clients as well.
Since technology is ever changing, so are we – always looking for what could make a better software. Our earnest desire is that you notice that too…and please let us know when you encounter something that would be helpful to you. The best way to submit suggestions is by emailing us at support@torrid-tech.com.
What about your business?
Are their places that you need to prune? Do you need to dig out some decaying roots? Does the soil need tending – fertilizing or watering? Once you make the decision to change and go through the discomfort that inevitably comes with that, ideally you see growth and THEN you can sit back and reap the benefits of all your hard work.
How we can help!
You will notice that one of the biggest changes we've made this year is that now you can open all files on both Mac and Windows computers.  Some of our advisors purchase the Couples Edition ($249) and the Personal Editions ($149) and sell that back to their clients. Then their clients can keep up with some of the changes in their financial picture during the year. Then, when they are due for an annual review, they can email you the file prior to that meeting. You can then both come to the meeting better prepared and informed to make some decisions. If that is of interest to you, please give us a call and we can give you more details on the discounted prices available to advisors for the Personal and Couples Edition packages.
We hope you have a wonderful summer and if your plans include a vacation, we wish you safe travel!