WebCalcs® – Web Based Financial Calculators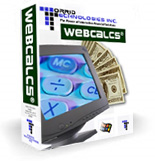 "We invented web-based
financial planning."
– Web Products Since 1994
Web-based Financial Planning for the Technology Driven Business!
"We invented web-based financial planning." - Web Products Since 1994
For Financial Services Companies: If your company needs Internet-based financial planning software, then consider our comprehensive and simple to use WebCalcs® software. We brand it to match your website. We host it. We maintain it. You just link to it.
Advantages: Total Visual Customization. Accurate. Maximum browser compatibility (no Java). Attention to Compliance. Up-to-date to Tax Laws. Scaleable to thousands of users. Proven solution already deployed by Fortune 500 financial services companies.
Great for Websites of: Mutual Funds, Banks, Insurance Companies, TPAs, 401k Recordkeepers, Financial Advisors, Financial Planners, CPAs, Attorneys, Estate Planners, and any other financial related web sites.
Some of our clients: AXA/MONY Group, The Hartford, JANUS, Pacific Life, CAPTRUST Financial Advisors, Raymond James, Sentry Insurance.
Pricing: Depends on customization, number of tools, usage, size of the firm. Pricing plans for the smallest one man advisor shop up to Fortune 500 financial companies. Please call us for a free consultation to fit your needs. If you are looking for CHEAP calculators at a CHEAP cost, please visit some of the other companies on the web. If you want something GOOD or CUSTOMIZED, then please contact us. We are very busy so it's important for you to contact us early in your decision cycle so that we can consult with you about what your specific business goals and needs are.
It's so Easy: Fast deployment. Branded by Torrid to match your website and navigation. All legal and tax compliance edits included. We host it. We maintain it. You just link to it. It's that simple. Leave it to the experts and we'll get it done for you.
Available Tools: We offer web-based financial planning systems that cover a whole range of financial planning topics. Our systems can be simple calculators or complex financial illustrations. Reports can be simple or elaborate. We offer low-cost simple versions, as well as higher cost custom versions. Our WebCalcs® software includes systems for:
Retirement savings and income
Pre
59½ 72t Calculations (avoiding penalty tax)
college savings and 529 plan illustrations
college cost and tuition data
Coverdell education savings
risk profile questionnaires and quizes
model portfolio illustrations
asset allocation and portfolio optimization
portfolio management and value tracking
401(k) retirement savings
Cost of waiting to save
Effect of Taxes and Inflation
Estate Tax Estimator
Finding Money for your savings goals
Health Savings Account (HSA) illustrations
Historical Hypothetical Portfolio Performance
Impact of Inflation
Life Insurance Needs Analysis
IRA Eligibility (all types of IRAs)
IRA Savings and Goal Analysis
IRA Required Minimum Distributions (RMDs)
IRA to Roth Conversion
Long Term Care Insurance
Lumpsum Distributions vs. Rollover Distributions
Model Portfolio Creation and Comparisons
Mortgage Amortization
Net Unrealized Appreciation of Employer Stock
Net Worth Estimator
New Value Calculator
Pension/Defined Benefit Income estimates
Portfolio Allocation Rebalancing
Portfolio Optimization and "Advice"
Portfolio Return Calculations
Paycheck Tax Savings
Required Minimum Distribution calculations
Retirement Budget and Expense Planning
Retirement Income Analyzer
Retirement Savings Estimator
Risk Tolerance Profile
Roth Conversion **call asap**
Roth v. IRA illustrations
Roth 401k v. Traditional 401k illustrations
Short Term Savings goals
Social Security benefit estimates
Stretch IRA / Legacy IRA illustrations
Tax Free Yield calculations
Looking for something not listed? Would you like to discuss your needs or a specific project? Please call us so we can learn more about your business and what you want to accomplish. We can then better make a recommendation of whether we might be able to help you reach your business goals.
Categories
Recent Posts
Recent Comments
Tags
Quick Links