"As a recent retiree, I cannot envision planning our future without regular access to your planner. Thanks for your help."
- Dave Willett
"Thanks! I have enjoyed and used your product for a long, long time.".
- Pete Wallner
"I have already referred several people to your software. I think it's great. I use it often to plot out different scenarios to get me to my retirement goals".
- Jeanne Hinkle
"Quicken® was more trouble than it was worth, and I got the new version for free as a gift. Torrid's [Retirement Savings Planner software] serves my planning purposes perfectly; it provides an ease of use with meaningful results that allows for a virtually endless series of "what ifs". AND, my wife can understand the results!
Thanks,
- Marty Steckel, Esq.
"The response time of Torrid-Tech Support is really great. And, the program also appears to be a winner."
- Jerry Schiowitz
"I would like for you to convey for me to everyone that works on the personal Retirement Savings Planner product that I think it is a fantastic product. I have been a user since February 2003. The different scenarios that I can run by varying rate of returns, interest rates, inflation, etc. have provided me with far more useful information than the time that I have spent with financial planners. As I think of different scenarios I can use RSP to model the effects, and see the results both graphically and with the detailed spreadsheet . The addition of the various cash infusions function with the built in flexibility is a fantastic addition."
- Gerald White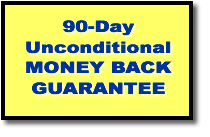 Our Money Back Guarantee: Read about it.