Earn a $25 Credit for every customer you refer
and your Friend will receive a $25 Discount!(*)
As a Torrid Technologies customer**, you can earn big rewards for your referrals. Do you know someone that could benefit from our software? Send them our way! You'll help them with their retirement, while reducing the cost of your next renewal.
The process is easy. Simply refer your friend using the form below. If they discover that our software is for them, you'll receive a credit of $25 $50 (DOUBLED THRU END OF APRIL!), and your friend will receive a $25 $50 discount (DOUBLED THRU END OF APRIL!) off their first purchase. Everybody wins!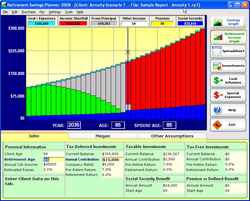 We find that the most successful Torrid Technologies customers are:
Friends of customers also concerned about retirement

Retirees who need to track their income and expenses

Baby Boomers needing to plan their retirement

Do-it-yourself investors who want to take control of retirement
We also find that referrals are most successful when you talk to them first about the value of our software and how it has helped you.
Here are a few pointers you can help them understand:
How easy it is to learn and use

The instant nature of changing the factors affecting retirement

How much you can save over hiring a "financial planner"

And any of the other cool things that you love about our software.
IN ADDITION: If you enter their MAILING ADDRESS, then we will mail them a physical CD with the latest version of the software. The CD runs on Mac or Windows computers. This costs us around $5 for the CD and the mail cost but we will gladly do it for you... our valued customer and friend!
Refer a friend today!
Your Friend or Colleague's Information:
---
Fill this out and we will send them a FREE DEMO CD.
Enter the above code to prevent spammers:
** This credit is only for referrals that subscribe to the "RetirementView" software. Torrid Technologies partners and affiliates are not eligible for the Torrid Tech Customer Referral Program. Partners and Affiliates will be compensated according to their respective agreements. Participation in both programs simultaneously is not permitted.